TRUISMS (1978-1983) JENNY HOLZER
Jenny Holzer & Truisms
the work of jenny holzer has been shown worldwide in prominent institutions such as the guggenheim museum (new york), the american pavilion at the venice biennale (venice, italy), the institute of contemporary art london (london, england) or the centre pompidou (paris, france).
however, the main focus of jenny holzer has been on the investigation of means to disseminate her ideas within public space. since the late seventies, she has been working in the street and in public buildings, using media that would enable her work to blend in the landscape. from lcd displays (e.g., in times square, new york) to posters and stickers (applied to such urban elements as telephone booths or parking meters), the texts function as comments on that environment they fit into, stimulating awareness of our social conditioning as conveyed by the very landscape in which we may be confronted by them.
Language as Art
Holzer's conception of language as art, in which semantics developed into her aesthetic, began to emerge in New York. The Whitney program included an extensive reading list incorporating Western and Eastern literature and philosophy. Holzer felt the writings could be simplified to phrases everyone could understand. She called these summaries her "Truisms" (1978), which she printed anonymously in black italic script on white paper and wheat-pasted to building facades, signs, and telephone booths in lower Manhattan. Arranged in alphabetical order and comprised of short sentences, her "Truisms" inspired pedestrians to scribble messages on the posters and make verbal comments. Holzer would stand and listen to the dialogues invoked by her words.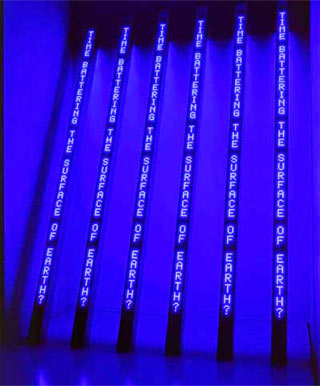 The participatory effect and the underground format were vital components of Holzer's "Truisms" and of her second series, the "Inflammatory Essays," which laconically articulated Holzer's concerns and anxieties about contemporary society. Holzer printed the "Essays" in alphabetical order, first on small posters and then as a manuscript entitled The Black Book (1979). Until the late 1980s, Holzer refused to produce them in any non-underground formats because of their militant nature. Her declarative language assumed particular force and violence in the multiple viewpoints of the "Essays," ranging from extreme leftist to rightist.
Holzer initiated the "Living Series" in 1981, which she printed on aluminum and bronze plaques, the presentation format used by medical and government buildings. "Living" addressed the necessities of daily life: eating, breathing, sleeping, and human relationships. Her bland, short instructions were accompanied with paintings by the American artist Peter Nadin, whose portraits of men and women attached to metal posts further articulated the emptiness of both life and message in the information age.
Art and Technology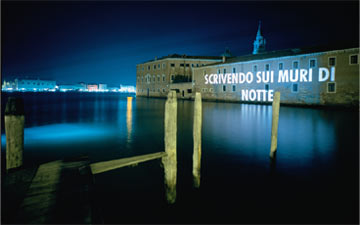 The medium of modern computer systems became an important component in Holzer's work in 1982, when nine of her "Truisms" flashed at forty-second intervals on the giant Spectacolor electronic signboard in Times Square. Sponsored by the Public Arts Fund program, the use of the L.E.D. (light emitting diode) machine allowed Holzer to reach a larger audience. By combining a knowledge of semantics with modern advertising technologies, Holzer established herself as a descendant of the conceptualist and Pop Art movements. She again utilized the electronic signboard with her "Survival Series" (1983-1985), in which she adopted a more personal and urgent stance. The realities of everyday living, the dangers, and the underlying horrors were major themes. Correlating with the immediacy of the messages, Holzer adopted a slightly less authoritarian voice. Her populist appropriation of contemporary "newsspeak" crossed the realm between visual art and poetry and carried a potent expressive force.
Her attempt to make sense out of contemporary life within a technological framework also suggests the limitations of the information age, in which the world of advertising consumes everything, yet an underlying message no longer exists.
After the "Survival Series," Holzer's installations became more monumental in scale and more quasi-religious. Her "Under a Rock" exhibition combined the modern media of the communications industry, the electronic signboard, with marble benches printed in the block letters used in national cemeteries. The language measured angst and violence with the apathetic reportage of the most seasoned news personae: CRACK THE PELVIS SO SHE LIES RIGHT, THIS IS A MISTAKE. WHEN SHE DIES YOU CANNOT REPEAT THE ACT, etc. The vivid juxtaposition between horrifying subject matter and the authoritarian voice, coupled with flashing diodes and cold marble, jars the spectator with its apparent paradox and brutal insistency. By utilizing the pronoun "she," Holzer allied the victimization with the female. The new urgency of the "voice" in Holzer's "Under a Rock" installation, first exhibited in 1986 at the Barbara Gladstone Gallery in New York, revealed a Holzer more overtly building images that suggest male power and control over women.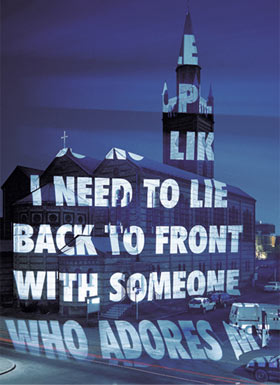 The birth of her first child in 1989 inspired Holzer's "Laments," perhaps the most personal and angst-ridden series she had done. The "Laments" address motherhood, violation, pain, torture, and death in the voices of "thirteen assorted dead people" (J. Holzer). The personae range in sex and age, yet a common insistency permeates their disembodied words. One passage suggests infanticide: IF THE PROCESS STARTS I WILL KILL THIS BABY A GOOD WAY. The contradictions inherent to the rhetoric, "to kill" but in "a good way," shape the negations and arbitrariness of contemporary linguistics. Holzer accessed the language structure and media of contemporary politics and advertising in order to reveal the tensions and male domination apparent in the contemporary linguistic system.
Virtual Art
The multimedia extravaganzas of Holzer's later installations, such as the 1989 Guggenheim exhibition, are exemplified by a 535-foot running electronic signboard spiraled around the core of Frank Lloyd Wright's architecture, flashing garish lights on the monumental stone benches arranged in a large circle on the floor below. In 1989 also, she became the first female artist chosen to represent the United States at the Venice Biennale, the international art world's premiere event. For the Biennale, Holzer designed posters, hats, and t-shirts to be sold in the streets of Venice, while her L.E.D. signboards and marble benches occupied the solemn and austere exhibition space. Her words were translated into multiple languages in order to communicate to an international audience. Despite the fact that she had won the prestigious Golden Lion award at the Biennale, Holzer also started to draw more negative reactions to her work. The size and expense of her exhibits, as well as her growing popularity in the art world, led some to accuse her of becoming elitist.
Holzer withdrew from the art world for a few years and then returned in 1993 with a fresh approach to her work and a new emphasis on the immaterial. In October of 1993 she partook in a virtual reality exhibit at the Guggenheim Museum. The following year she produced her next series, "Lustmord," which opened at the Barbara Gladstone Gallery in New York. The title is taken from a German word that means murder plus sexual pleasure. She was inspired by the violence of the war in Bosnia, formerly a republic of Yugoslavia. In 1996 she participated in the First Biennale of Florence. By accepting multivalent formats for her media-conscious verbal imagery, Holzer created a populist art of expressive and poetic force.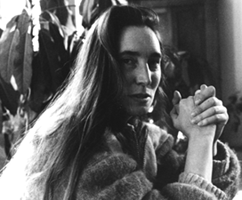 Examples of Jenny Holzer's Art:
A truism is a claim that is so obvious or self-evident as to be hardly worth mentioning, except as a reminder or as a rhetorical or literary device and is the opposite of falsism.[1]
In philosophy, a sentence which asserts incomplete truth conditions for a proposition may be regarded as a truism. An example of such a sentence would be: "Under appropriate conditions, the sun rises." Without contextual support — a statement of what those appropriate conditions are — the sentence is true but incontestable. A statement which is true by definition ("All cats are mammals.") would also be considered a truism. This is quite similar to a tautology in which the conclusion of a statement is essentially equivalent to its premise, a statement that is "true by virtue of its logical form alone".[2]
The word may be used to disguise the fact that a proposition is really just an opinion, especially in rhetoric. A saying about people or an accepted truth about life in general is also a truism.
TRUISMS (1978-1983)
JENNY HOLZER
A LITTLE KNOWLEDGE CAN GO A LONG WAY
A LOT OF PROFESSIONALS ARE CRACKPOTS
A MAN CAN'T KNOW WHAT IT IS TO BE A MOTHER
A NAME MEANS A LOT JUST BY ITSELF
A POSITIVE ATTITUDE MEANS ALL THE DIFFERENCE IN THE WORLD
A RELAXED MAN IS NOT NECESSARILY A BETTER MAN
A SENSE OF TIMING IS THE MARK OF GENIUS
A SINCERE EFFORT IS ALL YOU CAN ASK
A SINGLE EVENT CAN HAVE INFINITELY MANY INTERPRETATIONS
A SOLID HOME BASE BUILDS A SENSE OF SELF
A STRONG SENSE OF DUTY IMPRISONS YOU
ABSOLUTE SUBMISSION CAN BE A FORM OF FREEDOM
ABSTRACTION IS A TYPE OF DECADENCE
ABUSE OF POWER COMES AS NO SURPRISE
ACTION CAUSES MORE TROUBLE THAN THOUGHT
ALIENATION PRODUCES ECCENTRICS OR REVOLUTIONARIES
ALL THINGS ARE DELICATELY INTERCONNECTED
AMBITION IS JUST AS DANGEROUS AS COMPLACENCY
AMBIVALENCE CAN RUIN YOUR LIFE
AN ELITE IS INEVITABLE
ANGER OR HATE CAN BE A USEFUL MOTIVATING FORCE
ANIMALISM IS PERFECTLY HEALTHY
ANY SURPLUS IS IMMORAL
ANYTHING IS A LEGITIMATE AREA OF INVESTIGATION
ARTIFICIAL DESIRES ARE DESPOILING THE EARTH
AT TIMES INACTIVITY IS PREFERABLE TO MINDLESS FUNCTIONING
AT TIMES YOUR UNCONSCIOUSNESS IS TRUER THAN YOUR CONSCIOUS MIND
AUTOMATION IS DEADLY
AWFUL PUNISHMENT AWAITS REALLY BAD PEOPLE
BAD INTENTIONS CAN YIELD GOOD RESULTS
BEING ALONE WITH YOURSELF IS INCREASINGLY UNPOPULAR
BEING HAPPY IS MORE IMPORTANT THAN ANYTHING ELSE
BEING JUDGMENTAL IS A SIGN OF LIFE
BEING SURE OF YOURSELF MEANS YOU'RE A FOOL
BELIEVING IN REBIRTH IS THE SAME AS ADMITTING DEFEAT
BOREDOM MAKES YOU DO CRAZY THINGS
CALM IS MORE CONDUCTIVE TO CREATIVITY THAN IS ANXIETY
CATEGORIZING FEAR IS CALMING
CHANGE IS VALUABLE WHEN THE OPPRESSED BECOME TYRANTS
CHASING THE NEW IS DANGEROUS TO SOCIETY
CHILDREN ARE THE MOST CRUEL OF ALL
CHILDREN ARE THE HOPE OF THE FUTURE
CLASS ACTION IS A NICE IDEA WITH NO SUBSTANCE
CLASS STRUCTURE IS AS ARTIFICIAL AS PLASTIC
CONFUSING YOURSELF IS A WAY TO STAY HONEST
CRIME AGAINST PROPERTY IS RELATIVELY UNIMPORTANT
DECADENCE CAN BE AN END IN ITSELF
DECENCY IS A RELATIVE THING
DEPENDENCE CAN BE A MEAL TICKET
DESCRIPTION IS MORE IMPORTANT THAN METAPHOR
DEVIANTS ARE SACRIFICED TO INCREASE GROUP SOLIDARITY
DISGUST IS THE APPROPRIATE RESPONSE TO MOST SITUATIONS
DISORGANIZATION IS A KIND OF ANESTHESIA
DON'T PLACE TO MUCH TRUST IN EXPERTS
DRAMA OFTEN OBSCURES THE REAL ISSUES
DREAMING WHILE AWAKE IS A FRIGHTENING CONTRADICTION
DYING AND COMING BACK GIVES YOU CONSIDERABLE PERSPECTIVE
DYING SHOULD BE AS EASY AS FALLING OFF A LOG
EATING TOO MUCH IS CRIMINAL
ELABORATION IS A FORM OF POLLUTION
EMOTIONAL RESPONSES AR AS VALUABLE AS INTELLECTUAL RESPONSES
ENJOY YOURSELF BECAUSE YOU CAN'T CHANGE ANYTHING ANYWAY
ENSURE THAT YOUR LIFE STAYS IN FLUX
EVEN YOUR FAMILY CAN BETRAY YOU
EVERY ACHIEVEMENT REQUIRES A SACRIFICE
EVERYONE'S WORK IS EQUALLY IMPORTANT
EVERYTHING THAT'S INTERESTING IS NEW
EXCEPTIONAL PEOPLE DESERVE SPECIAL CONCESSIONS
EXPIRING FOR LOVE IS BEAUTIFUL BUT STUPID
EXPRESSING ANGER IS NECESSARY
EXTREME BEHAVIOR HAS ITS BASIS IN PATHOLOGICAL PSYCHOLOGY
EXTREME SELF-CONSCIOUSNESS LEADS TO PERVERSION
FAITHFULNESS IS A SOCIAL NOT A BIOLOGICAL LAW
FAKE OR REAL INDIFFERENCE IS A POWERFUL PERSONAL WEAPON
FATHERS OFTEN USE TOO MUCH FORCE
FEAR IS THE GREATEST INCAPACITATOR
FREEDOM IS A LUXURY NOT A NECESSITY
GIVING FREE REIN TO YOUR EMOTIONS IS AN HONEST WAY TO LIVE
GO ALL OUT IN ROMANCE AND LET THE CHIPS FALL WHERE THEY MAY
GOING WITH THE FLOW IS SOOTHING BUT RISKY
GOOD DEEDS EVENTUALLY ARE REWARDED
GOVERNMENT IS A BURDEN ON THE PEOPLE
GRASS ROOTS AGITATION IS THE ONLY HOPE
GUILT AND SELF-LACERATION ARE INDULGENCES
HABITUAL CONTEMPT DOESN'T REFLECT A FINER SENSIBILITY
HIDING YOUR EMOTIONS IS DESPICABLE
HOLDING BACK PROTECTS YOUR VITAL ENERGIES
HUMANISM IS OBSOLETE
HUMOR IS A RELEASE
IDEALS ARE REPLACED BY CONVENTIONAL GOALS AT A CERTAIN AGE
IF YOU AREN'T POLITICAL YOUR PERSONAL LIFE SHOULD BE EXEMPLARY
IF YOU CAN'T LEAVE YOUR MARK GIVE UP
IF YOU HAVE MANY DESIRES YOUR LIFE WILL BE INTERESTING
IF YOU LIVE SIMPLY THERE IS NOTHING TO WORRY ABOUT
IGNORING ENEMIES IS THE BEST WAY TO FIGHT
ILLNESS IS A STATE OF MIND
IMPOSING ORDER IS MAN'S VOCATION FOR CHAOS IS HELL
IN SOME INSTANCES IT'S BETTER TO DIE THAN TO CONTINUE
INHERITANCE MUST BE ABOLISHED
IT CAN BE HELPFUL TO KEEP GOING NO MATTER WHAT
IT IS HEROIC TO TRY TO STOP TIME
IT IS MAN'S FATE TO OUTSMART HIMSELF
IT IS A GIFT TO THE WORLD NOT TO HAVE BABIES
IT'S BETTER TO BE A GOOD PERSON THAN A FAMOUS PERSON
IT'S BETTER TO BE LONELY THAN TO BE WITH INFERIOR PEOPLE
IT'S BETTER TO BE NAIVE THAN JADED
IT'S BETTER TO STUDY THE LIVING FACT THAN TO ANALYZE HISTORY
IT'S CRUCIAL TO HAVE AN ACTIVE FANTASY LIFE
IT'S GOOD TO GIVE EXTRA MONEY TO CHARITY
IT'S IMPORTANT TO STAY CLEAN ON ALL LEVELS
IT'S JUST AN ACCIDENT THAT YOUR PARENTS ARE YOUR PARENTS
IT'S NOT GOOD TO HOLD TOO MANY ABSOLUTES
IT'S NOT GOOD TO OPERATE ON CREDIT
IT'S VITAL TO LIVE IN HARMONY WITH NATURE
JUST BELIEVING SOMETHING CAN MAKE IT HAPPEN
KEEP SOMETHING IN RESERVE FOR EMERGENCIES
KILLING IS UNAVOIDABLE BUT NOTHING TO BE PROUD OF
KNOWING YOURSELF LETS YOU UNDERSTAND OTHERS
KNOWLEDGE SHOULD BE ADVANCED AT ALL COSTS
LABOR IS A LIFE-DESTROYING ACTIVITY
LACK OF CHARISMA CAN BE FATAL
LEISURE TIME IS A GIGANTIC SMOKE SCREEN
LISTEN WHEN YOUR BODY TALKS
LOOKING BACK IS THE FIRST SIGN OF AGING AND DECAY
LOVING ANIMALS IS A SUBSTITUTE ACTIVITY
LOW EXPECTATIONS ARE GOOD PROTECTION
MANUAL LABOR CAN BE REFRESHING AND WHOLESOME
MEN ARE NOT MONOGAMOUS BY NATURE
MODERATION KILLS THE SPIRIT
MONEY CREATES TASTE
MONOMANIA IS A PREREQUISITE OF SUCCESS
MORALS ARE FOR LITTLE PEOPLE
MOST PEOPLE ARE NOT FIT TO RULE THEMSELVES
MOSTLY YOU SHOULD MIND YOUR OWN BUSINESS
MOTHERS SHOULDN'T MAKE TOO MANY SACRIFICES
MUCH WAS DECIDED BEFORE YOU WERE BORN
MURDER HAS ITS SEXUAL SIDE
MYTH CAN MAKE REALITY MORE INTELLIGIBLE
NOISE CAN BE HOSTILE
NOTHING UPSETS THE BALANCE OF GOOD AND EVIL
OCCASIONALLY PRINCIPLES ARE MORE VALUABLE THAN PEOPLE
OFFER VERY LITTLE INFORMATION ABOUT YOURSELF
OFTEN YOU SHOULD ACT LIKE YOU ARE SEXLESS
OLD FRIENDS ARE BETTER LEFT IN THE PAST
OPACITY IS AN IRRESISTIBLE CHALLENGE
PAIN CAN BE A VERY POSITIVE THING
PEOPLE ARE BORING UNLESS THEY ARE EXTREMISTS
PEOPLE ARE NUTS IF THEY THINK THEY ARE IMPORTANT
PEOPLE ARE RESPONSIBLE FOR WHAT THEY DO UNLESS THEY ARE INSANE
PEOPLE WHO DON'T WORK WITH THEIR HANDS ARE PARASITES
PEOPLE WHO GO CRAZY ARE TOO SENSITIVE
PEOPLE WON'T BEHAVE IF THEY HAVE NOTHING TO LOSE
PHYSICAL CULTURE IS SECOND BEST
PLANNING FOR THE FUTURE IS ESCAPISM
PLAYING IT SAFE CAN CAUSE A LOT OF DAMAGE IN THE LONG RUN
POLITICS IS USED FOR PERSONAL GAIN
POTENTIAL COUNTS FOR NOTHING UNTIL IT'S REALIZED
PRIVATE PROPERTY CREATED CRIME
PURSUING PLEASURE FOR THE SAKE OF PLEASURE WILL RUIN YOU
PUSH YOURSELF TO THE LIMIT AS OFTEN AS POSSIBLE
RAISE BOYS AND GIRLS THE SAME WAY
RANDOM MATING IS GOOD FOR DEBUNKING SEX MYTHS
RECHANNELING DESTRUCTIVE IMPULSES IS A SIGN OF MATURITY
RECLUSES ALWAYS GET WEAK
REDISTRIBUTING WEALTH IS IMPERATIVE
RELATIVITY IS NO BOON TO MANKIND
RELIGION CAUSES AS MANY PROBLEMS AS IT SOLVES
REMEMBER YOU ALWAYS HAVE FREEDOM OF CHOICE
REPETITION IS THE BEST WAY TO LEARN
RESOLUTIONS SERVE TO EASE OUR CONSCIENCE
REVOLUTION BEGINS WITH CHANGES IN THE INDIVIDUAL
ROMANTIC LOVE WAS INVENTED TO MANIPULATE WOMEN
ROUTINE IS A LINK WITH THE PAST
ROUTINE SMALL EXCESSES ARE WORSE THAN THEN THE OCCASIONAL DEBAUCH
SACRIFICING YOURSELF FOR A BAD CAUSE IS NOT A MORAL ACT
SALVATION CAN'T BE BOUGHT AND SOLD
SELF-AWARENESS CAN BE CRIPPLING
SELF-CONTEMPT CAN DO MORE HARM THAN GOOD
SELFISHNESS IS THE MOST BASIC MOTIVATION
SELFLESSNESS IS THE HIGHEST ACHIEVEMENT
SEPARATISM IS THE WAY TO A NEW BEGINNING
SEX DIFFERENCES ARE HERE TO STAY
SIN IS A MEANS OF SOCIAL CONTROL
SLIPPING INTO MADNESS IS GOOD FOR THE SAKE OF COMPARISON
SLOPPY THINKING GETS WORSE OVER TIME
SOLITUDE IS ENRICHING
SOMETIMES SCIENCE ADVANCES FASTER THAN IT SHOULD
SOMETIMES THINGS SEEM TO HAPPEN OF THEIR OWN ACCORD
SPENDING TOO MUCH TIME ON SELF-IMPROVEMENT IS ANTISOCIAL
STARVATION IS NATURE'S WAY
STASIS IS A DREAM STATE
STERILIZATION IS A WEAPON OF THE RULERS
STRONG EMOTIONAL ATTACHMENT STEMS FROM BASIC INSECURITY
STUPID PEOPLE SHOULDN'T BREED
SURVIVAL OF THE FITTEST APPLIES TO MEN AND ANIMALS
SYMBOLS ARE MORE MEANINGFUL THAN THINGS THEMSELVES
TAKING A STRONG STAND PUBLICIZES THE OPPOSITE POSITION
TALKING IS USED TO HIDE ONE'S INABILITY TO ACT
TEASING PEOPLE SEXUALLY CAN HAVE UGLY CONSEQUENCES
TECHNOLOGY WILL MAKE OR BREAK US
THE CRUELEST DISAPPOINTMENT IS WHEN YOU LET YOURSELF DOWN
THE DESIRE TO REPRODUCE IS A DEATH WISH
THE FAMILY IS LIVING ON BORROWED TIME
THE IDEA OF REVOLUTION IS AN ADOLESCENT FANTASY
THE IDEA OF TRANSCENDENCE IS USED TO OBSCURE OPPRESSION
THE IDIOSYNCRATIC HAS LOST ITS AUTHORITY
THE MOST PROFOUND THINGS ARE INEXPRESSIBLE
THE MUNDANE IS TO BE CHERISHED
THE NEW IS NOTHING BUT A RESTATEMENT OF THE OLD
THE ONLY WAY TO BE PURE IS TO STAY BY YOURSELF
THE SUM OF YOUR ACTIONS DETERMINES WHAT YOU ARE
THE UNATTAINABLE IS INVARIABLE ATTRACTIVE
THE WORLD OPERATES ACCORDING TO DISCOVERABLE LAWS
THERE ARE TOO FEW IMMUTABLE TRUTHS TODAY
THERE'S NOTHING EXCEPT WHAT YOU SENSE
THERE'S NOTHING REDEEMING IN TOIL
THINKING TOO MUCH CAN ONLY CAUSE PROBLEMS
THREATENING SOMEONE SEXUALLY IS A HORRIBLE ACT
TIMIDITY IS LAUGHABLE
TO DISAGREE PRESUPPOSES MORAL INTEGRITY
TO VOLUNTEER IS REACTIONARY
TORTURE IS BARBARIC
TRADING A LIFE FOR A LIFE IS FAIR ENOUGH
TRUE FREEDOM IS FRIGHTFUL
UNIQUE THINGS MUST BE THE MOST VALUABLE
UNQUESTIONING LOVE DEMONSTRATES LARGESSE OF SPIRIT
USING FORCE TO STOP FORCE IS ABSURD
VIOLENCE IS PERMISSIBLE EVEN DESIRABLE OCCASIONALLY
WAR IS A PURIFICATION RITE
WE MUST MAKE SACRIFICES TO MAINTAIN OUR QUALITY OF LIFE
WHEN SOMETHING TERRIBLE HAPPENS PEOPLE WAKE UP
WISHING THINGS AWAY IS NOT EFFECTIVE
WITH PERSEVERANCE YOU CAN DISCOVER ANY TRUTH
WORDS TEND TO BE INADEQUATE
WORRYING CAN HELP YOU PREPARE
YOU ARE A VICTIM OF THE RULES YOU LIVE BY
YOU ARE GUILELESS IN YOUR DREAMS
YOU ARE RESPONSIBLE FOR CONSTITUTING THE MEANING OF THINGS
YOU ARE THE PAST PRESENT AND FUTURE
YOU CAN LIVE ON THROUGH YOUR DESCENDANTS
YOU CAN'T EXPECT PEOPLE TO BE SOMETHING THEY'RE NOT
YOU CAN'T FOOL OTHERS IF YOU'RE FOOLING YOURSELF
YOU DON'T KNOW WHAT'S WHAT UNTIL YOU SUPPORT YOURSELF
YOU HAVE TO HURT OTHERS TO BE EXTRAORDINARY
YOU MUST BE INTIMATE WITH A TOKEN FEW
YOU MUST DISAGREE WITH AUTHORITY FIGURES
YOU MUST HAVE ONE GRAND PASSION
YOU MUST KNOW WHERE YOU STOP AND THE WORLD BEGINS
YOU CAN UNDERSTAND SOMEONE OF YOUR SEX ONLY
YOU OWE THE WORLD NOT THE OTHER WAY AROUND
YOU SHOULD STUDY AS MUCH AS POSSIBLE
YOUR ACTIONS AE POINTLESS IF NO ONE NOTICES
YOUR OLDEST FEARS ARE THE WORST ONES
_____________________________________________________________________________________________________
LUSTMORD:
Lusmord is the German word for sexual murder invovling rape. With LUSTMORD, Jenny Holzer peels back those layers of insulation and invites viewers into the dark corners of the human psyche. It has become appartent that sex murder is an evil so persistent in western culture that it has been "tolerated" to a suprising degree. We want to belive that only the deeply insane, someone reduced to animalistic violence, could twist love and hate in such a sadistic manner, but humans have created these heinous crimes for centuries. After hearing about the Bosnian war crimes Jenny Holzer was inspired to create LUSTMORD. LUSTMORD has been building ever since TRUISMS "Murder has its sexual side" Through the years, the anonymous tone voice of authority has evolded into a more pseronal and despairing voice The ideas of sex, war and death have continued, but now they take a personal tone as you hear the victim and the child of the victim's view.
Lusmord is composed of 4 LED, text billboard, signs. It also has tables or bones, certain bones that are connected with sensuality. For example, fingertips and collar bones. Certain bones have metal bands around them saying parts of the poem: HER BREASTS for example. The led signs interchange the perpetrator, the victim and the observer's text. When reading the billboard text compiled you perceive the encounter as a sexual tryst at first. Talks about breasts and hair and some tenderness. Then, when getting into the subject you realize pain was invovled, immense pain along with someone watching in anguish. The exhibit was built like a tomb, lights only from the billboard signs. You are allowed to touch the bones, the symbols of a lost woman and her lost sensuality.
This exhibit although graphic is meant to expose a dark pysche and the sides of a rape/murder, a LUSTMORD. The graphicness is a tool to make the viewer realize their own mortality and the innocence of people involved in a war crime.
PERPETRATOR
I SWIN IN HER AS SHE QUITES.
I SINK ON HER.
I SING HER A SONG ABOUT US.
I STEP ON HER HANDS.
I SPLAY HER FINGERS.
SHE ROOTS WITH HER BLUNT FACE.
SHE HUNTS ME WITH HER MOUTH.
SHE HAS THREE COLORS IN HER EYES.
I BITE HER CLOSED AGAIN.
I AM NEAR HER MILK.
I TELL HER TO SOAP HERSELF.
SHE TIGHTENS AND I HIT HER.
I WASH HER OUT.
I WATCH HER WHILE SHE THINKS ABOUT ME.
HER SALIVA RUNS WHEN SHE SLEEPS.
I HOOK HER SPINE.
SHE HAS A URINE SMELL.
HER SWALLOW REFLEX IS GONE.
HER HEAD EXPLODES IN THE FIRE.
HER BREASTS ARE ALL NIPPLE.
SHE ACTS LIKE AN ANIMAL LEFT FOR COOKING.
I FIND HER SQUATTING ON HER HEELS AND THIS OPENS HER SO I CAN GET HER FROM BELOW.
I TAKE HER FACE WITH ITS FINE HAIRS. I POSITION HER MOUTH.
I WANT TO FUCK HER WHERE SHE HAS TOO MUCH HAIR.
I HOOK MY CHIN OVER HER SHOULDER. NOW THAT SHE CAN STILL CONCENTRATE.
SHE HAS NO TASTE LEFT TO HER AND THIS MAKES IT EASIER FOR ME.
THE COLOR OF HER WHERE SHE IS INSIDE IS ENOUGH TO MAKE ME KILL HER.
VICTIM
I AM AWAKE IN A PLACE WHERE WOMEN DIE.
THE BIRD TURNS ITS HEAD AND LOOKS AT ME WITH ONE EYE AS YOU ENTER.
MY BREASTS ARE SO SWOLLEN THAT I BITE THEM
YOUR AWFUL LANGUAGE IS IN THE AIR BY MY HEAD
I DO NOT LIKE TO WALK BECAUSE I FEEL IT BETWEEN MY LEGS
HAIR IS STUCK INSIDE ME
MY NOSE BROKE IN THE GRASS. MY EYES ARE SORE MOVING AGAINST YOUR PALM.
I HAVE THE BLOOD JELLY.
WITH YOU INSDE ME COMES THE KNOWLEDGE OF MY DEATH.
YOU HAVE SKIN IN YOUR MOUTH. YOU LICK ME STUPIDLY.
YOU CONFUSE ME WITH SOMETHING THAY IS IN YOU. I WILL NOT PREDICT HOW YOU WANT TO USE ME.
I FEEL WHO YOU ARE AND IT DOES ME NO GOOD AT ALL.
I TRY TO EXCITE MYSELF SO I STAY CRAZY.
WHAT IS LEFT ON THE BLANKET IS CLEAR AND THE COLOR OF HELL.
OBSERVER
I WANT TO LIE DOWN BESIDE HER.
I HAVE NOT SINCE I WAS A CHILD.
I WILL BE COVERED BY WHAT HAS COME FROM HER.
SHE BEINGS TO MAKE MISTAKES IN HER LANGUAGE AND I CORRECT HER THE WAY SHE HAS TAUGHT ME.
I FIND HER TOWERLS SHOVED IN TIGHT SPOTS. I TAKE THEM TO BURN ALTHOUGH I FEAR TOUCHING THINGS.
SHE ASKS ME TO SLEEP IN THE HOUSE BUT I WILL NOT WITH HER NEW BODY AND ITS NOISES AND WETNESS.
SHE SMILES AT ME BECAUSE SHE IMAGINES I CAN HELP HER.
SHE COUGHS THE MOUTH STRINGS.
I WANT TO BRUSH HER HAIR BUT THE SMELL OF HER MAKES ME CROSS THE ROOM. I HELD MY BREATH AS LONG AS I COULD. I KNOW I DISAPPOINT HER.
SHE STARTED RUNNING WHEN EVERYTHING BEGAN POURING FROM HER BECAUSE SHE DID NOT WANT TO BE SEEN.
SHE FELL ON THE FLOOR IN MY ROOM. SHE TRIED TO BE CLEAN BUT SHE WAS NOT. I SEE HER TRAIL.
HER GORE IS IN THE BALL OF CLEANING RAGS. I CARRY OUT THE DAMPNESS FROM MY MOTHER. I RETURN TO HIDE HER JEWELRY
THE BLACK SPECKS INSIDE MY EYES FLOAT ON HER BODY. I WATCH THEM WHILE I THINK ABOUT HER.
I WANT TO SUCK ON HER TO MAKE HER RESPOND.
I WALK OUTSIDE TO THE PATH AND SEE THE PLANTS, EACH HANDLED BY HER, UNMARKED BY HER DYING.
SHE IS NARROW AND FLAT IN THE BLUE SACK AND I STAND WHEN THEY LIFT HER.
Jenny Holzer (born 1950 in Gallipolis, Ohio) is an American conceptual artist. Holzer lives and works in Hoosick Falls, New York.
Education
Originally aspiring to become an abstract painter[1], Holzer's studies included general art courses at Duke University, Durham, NC (1968–70), and then painting, printmaking and drawing at the University of Chicago before completing her BFA at Ohio University, Athens (1972). In 1974 she took summer courses at the Rhode Island School of Design, Providence, entering its MFA programme in 1975.[2] In 1976 she moved to Manhattan, participating in the Whitney Museum's independent study program and beginning her first work with language, installation and public art. She was also an active member of the artists group Colab. In her private collection, she has works by Alice Neel, Kiki Smith, Nancy Spero, and Louise Bourgeois.[3]
Work
Holzer belongs to the feminist branch of a generation of artists that emerged around 1980, looking for new ways to make narrative or commentary an implicit part of visual objects. Her contemporaries include Barbara Kruger, Cindy Sherman, Sarah Charlesworth, and Louise Lawler.[4]
Holzer is mostly known for her large-scale public displays that include billboard advertisements, projections on buildings and other architectural structures, as well as illuminated electronic displays. The main focus of her work is the use of words and ideas in public space. Originally utilizing street posters, LED signs became her most visible medium, though her diverse practice incorporates a wide array of media including bronze plaques, painted signs, stone benches and footstools, stickers, T-shirts, condoms, paintings, photographs, sound, video, light projection, theInternet, and a Le Mans race car.
Holzer's first public works, Truisms (1977–9), appeared in the form of anonymous broadsheets that she printed anonymously in black italic script on white paper and wheat-pasted to buildings, walls and fences in and around Manhattan.[5] These one-liners are a distillation of an erudite reading list from the Whitney Independent Study Program, where Holzer was a student.[6] She printed other Truisms on posters, t-shirts and stickers, then carved in the stone of public benches. In 1981, Holzer initiated the Living series, which she printed on aluminum and bronze plaques, the presentation format used by medical and government buildings. In 1982, the artist installed for the first time a large electronic sign on the Spectacolor board at Times Square, New York.[7] Sponsored by the Public Art Fund program, the use of L.E.D. (light emitting diode) allowed Holzer to reach a larger audience. The texts in her subsequent Survival series, compiled in 1983-85, speak to the great pain, delight, and ridiculousness of living in contemporary society.[8] In Holzer's 1986 exhibition at Barbara Gladstone Gallery in New York, she introduced a total environment, where viewers were confronted with the relentless visual buzz of a horizontal LED sign and stone benches leading up to an electronic altar. This practice culminated in the installation at the Guggenheim Museum in 1989 of a 163 meter-long sign, forming a continuous circle spiraling up the parapet wall.[9] For the Venice Biennale in 1990, Holzer designed posters, hats, and t-shirts to be sold in the streets of Venice, while her LED signboards and marble benches occupied the solemn and austere exhibition space (the original installation is retained in its entirety in the collection of the Albright-Knox Art Gallery in Buffalo, the organizing institution for the American Pavilion at the 1990 Venice Biennale). Text-based light projections have been central to Holzer's practice since 1996.[10]
Holzer wrote texts herself for a long time between 1977 and 2001. However since 1993, she has been mainly working with texts written by others. Some of these are literary texts by great authors such as the Polish Nobel laureate Wislawa Szymborska, Henri Cole (USA), Elfriede Jelinek (Austria), Fadhil Al-Azawi (Iraq), Yehuda Amichai (Israel) and Mahmoud Darwish (Palestine). She also uses texts from different contexts, such as passages from de-classified US Army documents from the war in Iraq. For example, a large LED work presents excerpts from the minutes of interrogations of American soldiers who had committed human rights violations and war crimes in Abu Ghraib, making what was once secret public. Holzer's works often speak of violence, oppression, sexuality, feminism, power, war and death. Her main concern is to enlighten, bringing to light something thought in silence and was meant to remain hidden.
Selected works
Truisms (1977–)[11] is probably her most well-known work. Holzer has compiled a series of statements and aphorisms ("truisms") and has publicised them in a variety of ways: listed on street posters, in telephone booths, and even, in 1982, on one of Times Square's gigantic LED billboards.
Inflammatory Essays (1978–79), in which she brought texts influenced by Trotsky, Hitler, Mao, Lenin, and Emma Goldman onto the streets
Living Series (early 1980s), using more monumental media such as bronze plaques and billboards
Survival Series (1983–1985), with more militant aphorisms, including "Men Don't Protect You Anymore," a phrase reproduced on condoms and street billboards alike
Under a Rock
Lament
Child Text, a piece on motherhood for the 1990 Venice Biennale
Please Change Beliefs (1995),[12] created for the internet art gallery adaweb.[13]
Protect Me From What I Want, The 15th iteration of the famous BMW Art Car Project. Painted on the BMW V12 LMR, the aforementioned refrain is written in metal foil, outlined with phosphorescent paint. In addition, the phrase "You are so complex, you don't respond to danger" is written on one of the cars sidepods; the other states "The unattainable is invariably attractive". The car was withdrawn from the 1999 24 Hours of Le Mans, but saw active competition for the 2000 Petit Le Mans, finishing fifth overall.
Terminal 5 In 2004, the dormant Saarinen-designed TWA Flight Center (now Jetblue T5) at John F. Kennedy International Airport (JFK) briefly hosted an art exhibition called Terminal Five,[14] curated by Rachel K. Ward[15] featuring the work of 18 artists.[16] Holzer's work displayed electronically on the terminals original departure-arrival board — Holzer had wanted the work projected onto the building's exterior, but airport officials denied the request, noting they could interfere with runway operations.[15]
For the City (2005), nighttime projections of declassified government documents on the exterior of New York University's Bobst Library, and poetry on the exteriors of Rockefeller Center and the New York Public Library in Manhattan [17]
For Singapore (2006), projection on City Hall, Singapore on the occasion of the Singapore Biennale 2006
For the Capitol (2007), nighttime projections of quotes by Presidents John F. Kennedy and Theodore Roosevelt about the role of art and culture in American Society. Projected from the Kennedy Center for the Performing Arts onto the Potomac River and Roosevelt Island in Washington DC.[18]
I Was In Baghdad Ochre Fade*, (2007), Oil on linen transcriptions of torture documents from the Iraq War; part of the Renaissance Society's 2007 group show, "Meanwhile, In Baghdad…"[19]
For SAAM (2007), Holzer's first cylindrical column of light and text created from white electronic LEDs, featuring texts from four of the artist's series — Truisms, Living (selections),Survival (selections) and Arno -; commissioned by the Smithsonian American Art Museum[20]
Redaction Paintings (2008), reproduced recently released declassified memos with much of the text blacked out by censors.
Permanent displays
IT TAKES A WHILE BEFORE YOU CAN STEP OVER INERT BODIES AND GO AHEAD WITH WHAT YOU WERE TRYING TO DO. From The Living Series (1989), twenty-eight white granite benches with inscriptions, part of the Minneapolis Sculpture Garden
Green Table (1992), a large granite picnic table with inscriptions, part of the Stuart Collection of public art on the campus of the University of California, San Diego
Installation for Schiphol (1995), permanent installation at Schiphol Airport Authority, Amsterdam, Holland
Erlauf Peace Monument (1995), texts memorializing lives lost and peace gained in World War II in Erlauf, Austria
Allentown Benches (Selections from the Truisms and Survival series) (1995), United States Courthouse, Allentown
Installation for the Guggenheim Museum Bilbao (1997) Permanent Installation, located off the main room of the Guggenheim Bilbao, with tall LED columns of text in English (red, on the front side) and Basque (blue, on the back side)
Oskar Maria Graf Memorial (1997), Literaturhaus, Munich
Ceiling Snake (1997), 138 electronic LED signs with red diodes over 47.6 meters, permanently installed at the Hamburger Kunsthalle
Bench (From the Survival Series of 8 benches) (1997), bench made of green marble at the Faulconer Gallery, Grinnell College; Portuguese inscription: NUM SONHO VOCE ENCONTROU UM JEITO DE SOBREVIVER E SE ENCHEU DE ALEGRIA. (IN A DREAM YOU SAW A WAY TO SURVIVE AND YOU WERE FULL OF JOY.)
There is a permanent LED sign along the top of the Telenor building in Oslo, Norway, installed in 1999
Untitled (1999), installation for Isla de Esculturas, Pontevedra, Spain
Blacklist (1999), permanent installation located in front of the University of Southern California's Fisher Museum of Art
Historical Speeches (1999), 4-sided electronic LED sign with amber diodes, permanently installed at the Reichstag (building), Berlin; the piece displays a selection of speeches given in the Reichstag and Bundestag, and plays for 12 days without repeating itself
The Black Garden of Nordhorn, the artist was commissioned to redesign a memorial to the fallen of Germany's three previous wars, including World War II. Next to the existing monolithic monument, she designed a circular garden consisting of concentric rings of plantings and pathways.[21]
Wanås Wall (2002), inscriptions on stones on the grounds of Wanås Castle, Knislinge, Sweden
Serpentine (2002), electronic LED sign with blue diodes, permanently installed at the Toray Building, Osaka
Untitled (2002), installation at University of Agder, Gimlemoen, Norway
125 Years (2003), a site work at the University of Pennsylvania, celebrating 125 years of women at University of Pennsylvania
For Pittsburgh (2005), Holzer's largest LED project in the United States boasting 688 feet of blue LED tubes attached to two edges of the roof of the David L. Lawrence Convention Center, Pittsburgh
For Elizabeth (2006), permanent outdoor work for the Vassar College campus consisting of twenty backless and armless granite benches, inscribed with the poetry of alumna and Pulitzer Prize-winner Elizabeth Bishop[22]
For 7 World Trade (2006), permanent LED installation in the 65-foot-wide, 14-foot-high wall in the lobby of 7 World Trade Center
For Novartis (2006/07), permanent LED installation at Novartis HQ, Basel, Switzerland
VEGAS (2009), LED installation commissioned for the parking lot of Aria Resort & Casino, Las Vegas
Bench (2011), marble bench at Barnard College; English inscription: "Stupid people shouldn't breed." / "It's crucial to have an active fantasy life."[23]
715 Molecules (2011), commissioned installation at Williams College consisting of a 16 ½ -foot long and 4-foot wide stone table and four benches, the surfaces of which have been sandblasted with 715 unique molecules[24]
Paintings
At the Massachusetts Museum of Contemporary Art in 2007, Holzer presented a series of silk-sreen paintings; each of 15 same-size, medium-large canvases, stained purple or brown, bears an all-black, silk-screened reproduction of a PowerPoint diagram used in 2002 to brief President Bush, Donald Rumsfeld and others on the United States Central Command's plan for invading Iraq. Holzer found these documents at the Web site of the independent, nongovernmental National Security Archive (nsarchive.org), which obtained them through the Freedom of Information Act, and has used them as source material for her work since 2004.[25] Other paintings depict confessions or letters from prisoners of all kinds and their families (parents pleading that the Army discharge rather than court-martial their sons); autopsy and interrogation reports; or exchanges concerning torture, as well as prisoners' handprints and maps of Baghdad.[26]
| | | |
| --- | --- | --- |
| " | "The works with declassified material are from my sometimes frantic (witness the number of paintings) worrying about the war and the attendant changes in American society. There is an unusually close connection between this artwork and my private politics, as there was with the "Lustmord" pieces [about genocidal rape in the former Yugoslavia], for example."[27] | " |
Dance
Holzer's first dance project was in 1985, "Holzer Duet … Truisms" with Bill T. Jones. In 2010, she collaborated with choreographer Miguel Gutierrez for the Co-Lab series at the Institute of Contemporary Art, Boston.[28]
Books
Holzer has also published several books, including A Little Knowledge (1979); Black Book (1980); Hotel (with Peter Nadin, 1980); Living (with Nadin, 1980); Eating Friends (with Nadin, 1981); Eating Through Living (with Nadin, 1981); and Truisms and Essays (1983).[29]
Exhibitions
Solo exhibitions of Holzer's work have been held in institutions such as the Fondation Beyeler in Riehen/Basel and the Whitney Museum of American Art in New York in 2009, and theMuseum of Contemporary Art in Chicago in 2008. She has also participated in exhibitions in major institutions such as the Stedelijk Museum, Den Bosch in The Nederlands, the National Gallery of Canada in Ottawa, and the Museum of Modern Art in New York.[30]
Jenny Holzer is represented in New York by Cheim & Read and Skarstedt Gallery, and in Paris by Yvon Lambert Gallery.[31]
Recognition
Jenny Holzer was the first woman to represent the United States in the Venice Biennale in 1990, and for her pavilion she was awarded the Leone D'Oro that year. She has been the recipient of several important awards, including the Blair Award, presented by the Art Institute of Chicago in 1982, the Skowhegan Medal for Installation (1994), the Berlin Prize Fellowship (2000), and a diploma of Chevalier from the Order of Arts and Letters from the French government (2002).[32] In 2010, Holzer was given the MOCA Award to Distinguished Women in the Arts; Holzer had designed the bronze plaque in the early 1994, which features one of the artist's truisms: "It is in your self-interest to find a way to be very tender."[33]
See also
References on Jenny Holzer
^ RES Art World/World Art September 2009
External links